Detailed Application Instructions
Tools:
Brush – Use a nylon/polyester brush.
Roller – Use a 3/8″- 3/4″ nap synthetic cover.
Spray – Airless pressure…2000 psi. Tip…021″-.035" with reversa tip. 1 hp mi
Preparation:
Read all label instructions before beginning. Always run a test patch first in an inconspicuous area, to ensure that proper adhesion and drying occurs and the product works to your satisfaction. Careful and complete preparation will ensure the best results. The surface must be clean, dry and relatively free from all dust, grease, wax, dirt, oil, chalk, solvents, loose paint, wallpaper and paste. Wash surface thoroughly. Heavily rusted areas may be wire brushed or sanded until smooth. Mold and mildew areas may be cleaned with an appropriate cleaner (i.e. 5-10% bleach and water solution). Paint & Prime has mildew inhibitors and will kill most fungus and algae. When priming over stains, remove as much of the stain as possible by washing or sanding the surface. For exterior peeling, power wash surfaces first and sand until smooth. Follow standard painting practices while preparing the surface.
Application:
Step 1:  Apply one coat of Ames® Super Primer.
Step 2:  Use two coats of Ames® Block and Wall Acrylic or 2 coats of Ames® Paint and Prime or two coats of Ames® Clear Seal.
Weather & Drying Guidelines:
Products are best applied between 40° to 90° F (10° to 32° C) on warm dry surfaces. Apply when the streets are dry, the sun is in the sky and no inclement weather is forecast. Starts to dry in 2-8 hours, depending on thickness of application and weather; allow at least 24 hours to cure. Low temperatures, high humidity and evening and morning dew will require increased drying/curing time.
Estimated Coverage:
Ames® Super Primer™ standard product coverage on a smooth surface is 100 to 200 square feet per gallon per coat. Rough surfaces such as cinder block may require additional product and drying time.
Ames® Clear Seal™ standard product coverage is approximately 200 sq. ft. per gallon, depending on surface characteristics.  Allow 2-8 hours drying time between coats. Drying time dependent on weather and humidity
Paint & Prime covers 300-500 sq. feet a gallon/coat depending on the roughness, texture, and porosity of surface being treated. Areas in poor condition may require additional coats and will have a lower coverage rate. For Sprayer Application: Thin with water up to 10%.
Two- five  coats of Ames® Block & Wall™ elastomeric waterproofing coating covers and waterproofs per 100 sq. ft.
Clean-up, Storage, and Disposal:
Clean tools and small spills with water only – do not use any soaps or detergents. Store unused product in its original container, tightly sealed and protected from freezing. Dispose of this product in accordance with local, state, or federal requirements.
Here you can create the content that will be used within the module.
Videos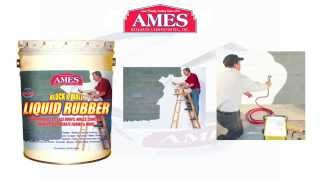 Ames Block & Wall Liquid Rubber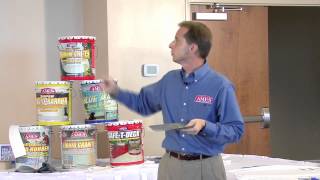 Ames® Super Primer
Ames Block & Wall Liquid Rubber

Ames® Super Primer

Call our experts for other roofing products and industrial coatings. 1-888 345-0809