Products: Ames® Super Primer™,  Ames® Peel & Stick™ Seam Tape and (Ames® Maximum-Stretch® or Ames® Iron Coat™)

Tools:
Ames® Maximum-Stretch® or Ames® Iron Coat™ can be applied with a paint brush, a push broom, a low nap roller with a long handle or a Commercial Airless Sprayer.  In addition, you will need Ames® Peel & Stick Seam Tape and scissors or a utility knife.  For larger commercial jobs, we recommend an airless sprayer with a 3/8 inch, 150 foot hose. Click Here for Sprayer Specifications
Preparation:
Be sure surfaces are clean and dry before the coating application. Read all label instructions before beginning. Always run a test patch first in an inconspicuous area to ensure that proper adhesion and drying occurs and the product works to your satisfaction. Seam tape joints and around vents with Ames'® Peel & Stick™ adhesive seam tape. Seam tape the cap or peak or the ridge line of the roof. Follow seam taping instructions.
Metal Roofs including Tin, Aluminum, Rusty Metal, Corrugated Metal, Fiberglass, Butler Buildings, Hangers and Factories:
Seam Tape where needed on roofs and gutters. You may also use Ames® Super Primer™ over rust to help with possible bleed through as well as any silver aluminum fibrous coating.  Super Primer™ has 10 pounds per square inch bonding capability to metal. Top coat with Ames® Maximum-Stretch®.
Application:
Pour the thick liquid coating out and spread 1-2 gallons of product liberally with a push broom or roller. Work the product until it is smooth and looks consistent in thickness. Move on after a few minutes so the product does not skin over or form a film which can create an unintended texture in the coating's finished appearance.
Estimated Coverage:
Standard product coverage on a smooth surface is 100 sq. ft. per gallon per coat (est. 10 mil) but it varies per surface. More than one coat is always recommended. More coats equal longer life.
Weather & Drying Guidelines:
Ames® Maximum-Stretch®  is best applied between 50° to 90° F (10° to 32° C) on warm dry surfaces. Apply when the streets are dry, the sun is in the sky and no inclement weather is forecast. Starts to dry in 2-8 hours, depending on thickness of application and weather; cures in 24 hours. Low temperatures, high humidity and evening and morning dew will require increased drying/curing time.
Clean-up, Storage, and Disposal:
Clean tools and small spills with water. Store unused product in its original container, tightly sealed and protected from freezing. Dispose of this product in accordance with local, state, or federal requirements.
Products for a Metal Roof
Videos
Ames Research Iron Coat™
Ames® Iron Coat™ - leaky rubber roof roof repair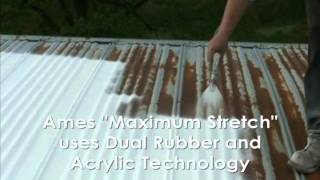 How to Waterproof a metal with Ames® Maximum-Stretch™ Waterproof Coating.
Ames® Iron Coat™ - leaky rubber roof roof repair

Ames'® Iron Coat™ industrial roof paint is a thick, high quality rubber and acrylic elastomeric roof coating especially for metal. It has been designed specifically for waterproofing and maintaining commercial and residential metal roofs, as well as mobile home and RV roofs. It has a special affinity for metal and has excellent bonding to rust and oxidized aluminum. Iron Coat™ is easy to apply. Simply roll this liquid, rubberized plastic coating on to completely seal troublesome leaks. It dries rapidly to form a cool white, 500% elastic, watertight roof membrane that expands and contracts with the roof surface. Iron Coat™ stays cool and resists cracking and peeling. It reflects 98% of the sun's rays to reduce roof temperature by as much as 120 degrees Fahrenheit. Developed for cold and wet weather. Formulated to resist fungus, mold and mildew. Iron Coat™ remains flexible from -30° to 150° F. Iron Coat™ is the superior metal roof coating. Call our experts for other roofing products and industrial coatings. 1-888 345-0809 or visit our website www.amesresearch.com

How to Waterproof a metal with Ames® Maximum-Stretch™ Waterproof Coating.

Demonstration and explanation on "How to Waterproof a Metal Roof" using "Ames Maximum Stretch" waterproof coating.