Products:   Ames® Super Primer™, Ames® Maximum-Stretch®, Ames® Super Elasto-Barrier®
Tools:
Products can be applied with a paint brush, a push broom, a low nap roller with a long handle or a Commercial Airless Sprayer. For larger commercial jobs, we recommend using a commercial grade airless sprayer. Click Here for Sprayer Specifications
Preparation:
Power wash the surface to remove loose dirt, moss, and debris from the roof surface and be sure it is completely dry before the coating application. Read all label instructions before beginning. Always run a test patch first in an inconspicuous area to ensure that proper adhesion and drying occurs and the product works to your satisfaction. Be sure surfaces are clean and dry before the coating application.
Application:
Step 1:  Prime with Ames Super Primer at the rate of 1 gallon per 200 square feet. Dries in about an hour.
Step 2:  Apply two to three coats of Super Elasto-Barrier until roof surface is smooth and sealed.
(Optional) Ames' Peel & Stick Seam Tape may be needed for any cracks, seams, vents, as well as penetrations. Apply Seam Tape over dried Super Primer.
Step 3:  Finish with one to two coats of Maximum-Stretch or a similar Ames product as needed to complete application. The minimum application of Super Elasto Barrier and Maximum Stretch is 2 gal/100 sq. ft. for each product.
Weather & Drying Guidelines:
Products are best applied between 50° to 90° F (10° to 32° C) on warm dry surfaces. Apply when the streets are dry, the sun is in the sky and no inclement weather is forecast. Starts to dry in 2-8 hours, depending on thickness of application and weather; cures in 24 hours. Low temperatures, high humidity and evening and morning dew will require increased drying/curing time.
Estimated Coverage:
Standard product coverage on smooth surface is 1-2 gallons per 100 sq. ft. More than one coat is recommended. More coats equal longer life.
Clean-up, Storage, and Disposal:
Clean tools and small spills with water. Store unused product in its original container, tightly sealed and protected from freezing. Dispose of this product in accordance with local, state, or federal requirements
Products for a Concrete Roof
Videos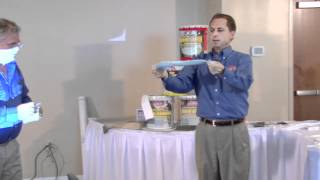 Ames Research Laboratories Maximum Stretch
Ames Research Laboratories Super Elasto Barrier
Ames "Super Elastobarrier" stretch test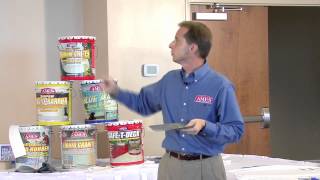 Ames Research Laboratories Super Primer
Ames Research Laboratories Maximum Stretch

Ames Research Laboratories Maximum stretch. Call our experts for other roofing products and industrial coatings. 1-888 345-0809

Ames Research Laboratories Super Elasto Barrier

Application and uses for Ames Research Laboratories Super Elasto-Barrier.Call our experts for other roofing products and industrial coatings. 1-888 345-0809

Ames "Super Elastobarrier" stretch test

Ames "Super Elastobarrier" is a liquid waterproof coating that is easy to apply and has a long service life. To demonstrate Ames "Super Elastobarrier" 1000% stretching characteristics we preformed a test that is featured in this video

Ames Research Laboratories Super Primer

Call our experts for other roofing products and industrial coatings. 1-888 345-0809