Detailed Application Instructions
Products : Ames® Super Elasto-Barrier®, Ames® Maximum-Stretch®, Ames® Contour Roof Fabric™
Tools:
Products can be applied with a paint brush, a push broom, a low nap roller with a long handle or a Commercial Airless Sprayer. In addition, you will need Ames® Peel & Stick Seam Tape™ and scissors or a utility knife. For larger commercial jobs, we recommend using a commercial grade airless sprayer. Click Here for Sprayer Specifications
Preparation:
Read all label instructions before beginning. Always run a test patch first in an inconspicuous area to ensure that proper adhesion and drying occurs and the product works to your satisfaction. Be sure surfaces are clean and dry before the coating application. All major cracks, joints and seams should be caulked with Blue Max trowel-grade liquid rubber. Do not use a silicone caulk. Large cracks may be filled with a sandable filler. Follow seam taping instructions. Mask all sensitive areas before starting.
Application:
Step 1: (1) Remove loose dirt and gravel, moss, and debris from the roof surface and power wash. Be sure that the surface is clean and dry before starting application of product. (2) Prime with two to three coats of Super Elasto-Barrier until roof surface is smooth and sealed. (2B) If roof is smooth, we recommend using Ames Roofing Fabric (see step 2B below).
Step 2:  Finish with one to two coats of Maximum-Stretch or a similar Ames product as needed to complete application.
(2B) Roof Fabric installation
IMPORTANT: Install adequate drains for all standing water areas and prime roof completely smooth and watertight before applying roofing fabric.
Step one: Starting at one end, pour out a liberal amount (about a half gallon) of Super Elasto-Barrier onto the surface. Use a push broom or roller to spread the coating out in a path slightly wider than the roof fabric. Roll the fabric into the wet coating using the push broom or roller until the coating comes up through the fabric and totally saturates it. This is best done by laying the roll of fabric down and pushing it forward into the wet coating with the push broom or roller while the excess coating comes up through the fabric. Avoid folds and wrinkles. Use a liberal amount of coating. The fabric will absorb almost two gallons per 100 square feet during this application
Step two: With a roller or push broom, pull the excess coating off to the side in preparation for laying the next row of fabric. Use the lap line on the fabric roll as a guide. One may butt or overlap the fabric. If you choose to overlap the fabric, overlap its entire length by three to four inches. Overlap may leave a seam. Repeat this process until the entire surface is completely covered with fabric. Allow the embedded fabric to dry completely for 24 to 48 hours.
Step three: To complete the roof fabric application process, apply an additional coat over the surface to completely seal and fill all remaining pinhole openings in the fabric. The goal here is to have all pinholes filled and no less than 30 mils of thickness (about the thickness of a dime). Use all the remaining coating to complete this process of three gallons per 100 square feet of roofing surface. The coating is best applied by pouring out in small quantities and spreading
Weather & Drying Guidelines:
Products are best applied between 50° to 90° F (10° to 32° C) on warm dry surfaces. Apply when the streets are dry, the sun is in the sky and no inclement weather is forecast. Starts to dry in 2-8 hours, depending on thickness of application and weather; cures in 24 hours. Low temperatures, high humidity and evening and morning dew will require increased drying/curing time.
Estimated Coverage:
The minimum application of Super Elasto Barrier and Maximum Stretch is 2 gal/100 sq. ft. for each product. Low spot areas would have a minimum of 5 gal/100 sq. ft. total including Super Elasto Barrier 3 gal/100 sq. ft., Contouring Roof Fabric, and Maximum Stretch 2 gal/100 sq. ft.
Clean-up, Storage, and Disposal:
Clean tools and small spills with water. Store unused product in its original container, tightly sealed and protected from freezing. Dispose of this product in accordance with local, state, or federal requirements.
Videos
How to waterproof a flat tar roof with Ames Maximum Stretch.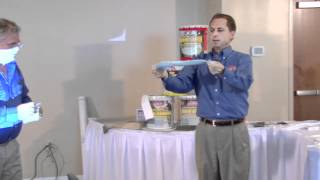 Ames Research Laboratories Maximum Stretch
How to waterproof a flat tar roof with Ames Maximum Stretch.

A flat tar roof beginning to show it's age was coated with Ames Research Laboratories "Maximum Stretch". By following Ames easy to understand instructions, this roof coating installation will extend the life of the roof up to ten years and more with periodic maintenance coats.

Ames Research Laboratories Maximum Stretch

Ames Research Laboratories Maximum stretch. Call our experts for other roofing products and industrial coatings. 1-888 345-0809