Foundations Exterior Above Grade
Detailed Application Instructions
Products: Ames® Blue Max®, Ames® Peel & Stick Seam Tape, (Ames® Paint & Prime® or Ames® Block & Wall™ Liquid Rubber)
Tools:
Ames® Blue Max®  can be applied with a paint brush, a push broom, a low nap roller with a long handle or a Commercial Airless Sprayer.  In addition, you will need Ames® Peel & Stick Seam Tape™ and scissors or a utility knife.  For larger commercial jobs, we recommend an airless sprayer with a 3/8 inch, 150 foot hose. Click Here for Sprayer Specifications
Preparation:
Be sure surfaces are clean and dry before the coating application. Read all label instructions before beginning. Always run a test patch first in an inconspicuous area to ensure that proper adhesion and drying occurs and the product works to your satisfaction.
Application:
No primer needed.  Caulk all cracks greater than 1/8″ wide with Ames Blue Max trowel-grade. Surfaces with joints, cracks, or where two unlike surfaces come together, require Ames® Peel & Stick Seam Tape (PS250, PS450 or PS650) to provide some additional strength and reinforcement. It is important to seam tape all joints and cracks to avoid future cracking and leaking. Prime all surfaces generously with Ames' Blue Max prior to setting the Seam Tape in place.  Apply a liberal topcoat of Ames' Blue Max over the Seam Tape and allow to cure.  Top coat with Ames Paint & Prime tinted to the color of your choice.
Weather & Drying Guidelines:
Ames® Blue Max is best applied between 50° to 90° F (10° to 32° C) on warm dry surfaces. For exterior applications apply when the streets are dry, the sun is in the sky and no inclement weather is forecast. Starts to dry in 30 minutes to 2 hours, depending on thickness of application and weather. It continues to cure for up to 2 weeks. A slight tack is normal after drying. Ames Blue Max may be re-coated or top coated when it is dry to the touch. Low temperatures, high humidity and evening and morning dew will require increased drying/curing time.
Estimated Coverage:
We recommend three gallons per 100 square feet for water containment.  Shake or stir prior to use. The application must be applied in a continuous, unbroken seal of a minimum dry thickness of no less than 30 mils (the thickness of a dime). We recommend two coats minimum, three to four is superior, more coats equal longer life. Rough surfaces will require additional product and drying time.
Clean-up, Storage, and Disposal:
Clean tools and small spills with water. Store unused product in its original container, tightly sealed and protected from freezing. Dispose of this product in accordance with local, state, or federal requirements.
Foundations Exterior Above Grade
Block & Wall™ Liquid Rubber
Videos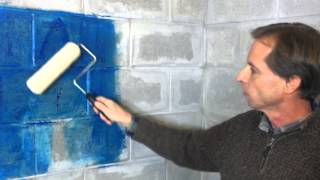 Waterproofing & Fixing Basement Foundation Leaks with Ames Blue Max & Seam Tape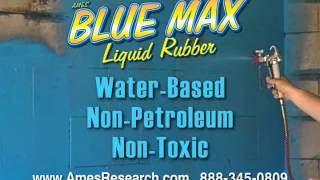 Ames Blue Max - Impervious rubber waterproofing coating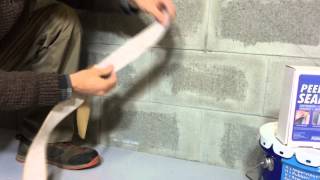 Waterproofing basements with Ames Peel & Stick Seam Tape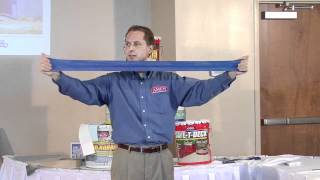 Ames Blue Max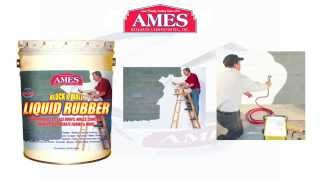 Ames Block & Wall Liquid Rubber
Waterproofing & Fixing Basement Foundation Leaks with Ames Blue Max & Seam Tape

Ames Research Laboratories Blue Max and Peel & Stick Seam tape work together on basements and foundations to waterproof or Stop Leaks Fast. This video will demonstrate how. These products can be ordered online or found at participating Ace, True Value and Do it Best hardware stores. For toll free technical help or locating a store near you call 888-345-0809. Made in the USA.

Ames Blue Max - Impervious rubber waterproofing coating

Ames Blue Max is a special blend of adhesive, high strength elastomeric liquid rubber. It is impervious liquid technology for waterproofing in difficult situations. Call our experts for other roofing products and industrial coatings. 1-888 345-0809

Waterproofing basements with Ames Peel & Stick Seam Tape

Ames Research Laboratories Peel & Stick Seam Tape is a self adhesive contouring tape. Learn about its properties and how it is used here. Ames Seam Tape is used on joints, around roof vents, on flashings, over cracks and gaps, along the seams on metal or RV roofs and many other surfaces. It creates a "bridge" that ties the surfaces together so water cannot seep through. Used in conjunction with Ames Blue Max liquid Rubber it will waterproof basements and seal cracks in concrete. Available online or at participating Ace, Do it Best and True Value hardware stores. For toll free technical support or to find a store near you call 888-345-080. Made in the USA.

Ames Block & Wall Liquid Rubber