Detailed Application Instructions
Products: Ames® Super Primer, Ames® Safe-T-Deck®
Tools:
Brush – Use a nylon/polyester brush.
Roller – Use a 3/8″- 3/4″ nap synthetic cover.
Paint Roller Pan
Preparation:
Pressure wash to ensure a clean surface and allow to dry. If deck is old, split, or pressure treated: Apply 1 coat of Ames® Super Primer 1 gallon per 200 sq. ft. and allow to dry.
Application:
Apply 2 coats of Ames® Safe-T-Deck (each coat at a rate of 1 gallon per 100 sq. ft.)
Weather & Drying Guidelines:
Ames'® Safe-T-Deck™  is best applied between 50° to 90° F (10° to 32° C) on warm dry surfaces. Apply when the streets are dry, the sun is in the sky and no inclement weather is forecast. Starts to dry in 2-8 hours, minimum of 24 hours between coats if possible for best results, depending on thickness of application and weather; cures in 24 hours. Low temperatures, high humidity and evening and morning dew will require increased drying/curing time
Estimated Coverage:
Standard product coverage of Ames® Super Primer™ on a smooth surface is 100 to 200 square feet per gallon per coat. Ames® Safe-T-Deck®, applies at the rate of 1 gallon per 100 square feet.  A minimum of two coats is recommended for a durable waterproof surface.
Clean-up, Storage and Disposal:
Clean tools and small spills with water. Store unused product in its original container, tightly sealed and protected from freezing. Dispose of this product in accordance with local, state, or federal requirements.
Products for a Composite Deck
Videos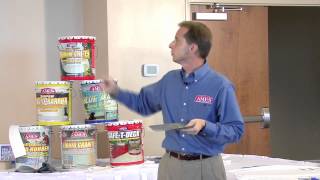 Learn About Ames® Super Primer™
Learn About Safe-T-Deck™
Learn About Ames® Super Primer™

Call our experts for other roofing products and industrial coatings. 1-888 345-0809

Learn About Safe-T-Deck™

Call our experts for other roofing products and industrial coatings. 1-888 345-0809